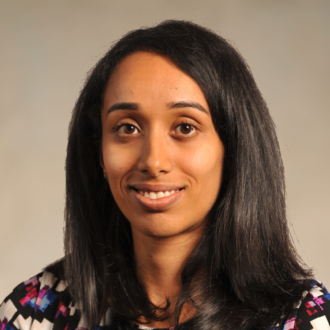 Nithya Vasudevan, MD, FAAP
General Pediatrics
Location(s):
Federal Way Office
In Office:
Tue, Wed, Thu, Fri
Education:
PSG Institute of Medical Sciences & Research, Tamil Nadu, India
Internship/Residency:
SUNY Downstate Medical Center/Kings County Hospital Center, Brooklyn, NY
Board Certification:
Pediatrics
"It is a privilege to help take care of a child from birth through adulthood. Children are resilient, and to see them improve is a rewarding experience and one of the reasons why I became a pediatrician."
Dr. Vasudevan supports vaccinations for all children. Her patients should anticipate that vaccinations will be discussed at all well child examinations and vaccinations will be offered at all appointments to children who are due for vaccines. Dr. Vasudevan promotes and follows the CDC's (Center for Disease Control) Immunization schedule.
In her free time, Dr. Vasudevan enjoys spending time with her family and traveling the world with her husband Vedant.